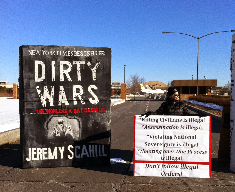 In den Vereinigten Staaten von Amerika haben sich Organisationen, die für Frieden, Einhaltung der Menschenrechte, gegen den Polizeistaat und die Brutalität der Polizei, Sanktionen gegen andere Länder, Massenüberwachung der Bevölkerung durch die Geheimdienste, die Authorization for Use of Military Force (AUMF) und die gegen Einsätze des U.S.-Militärs und Drohnen kämpfen, zu einer einzigen grossen Welle vereinigt. Im Rahmen dieser breit angelegten Aktion, dem "Spring Rising" werden im Bundesstaat New York in verschiedenen Städten Veranstaltungen in den nächsten Wochen durchgeführt. In den gesamten U.S.A. schliessen sich aus Solidarität Aktivisten mit Demonstrationen, Protesten, Vorträgen, Musikkonzerten und Aufklärungsveranstaltungen für die Öffentlichkeit an. Das Repertoire ist breit gefächert, so wie die Teilnehmer mit ihrem Anliegen zur Beendigung des staatlich organisierten Terrors.
Heute wird um 12 Uhr (Ortszeit) vor dem Weissen Haus zum 12.Jahrestag der Invasion der U.S.-Truppen in den Irak eine grosse Protestbewegung die Beendigung des endlosen Krieges fordern, zu der Arab Resource & Organizing Center (AROC), AYPAL – Building API Community Power, BAYAN-USA, Code Pink, International Jewish Anti-Zionist Network, Malcolm X Grassroots Movement, Middle East Children's Alliance, Mujeres Unidas Activas, Party for Socialism & Liberation, Cindy Sheehan, Unitarian Universalists for Peace & Justice, World Can't Wait und WORD - Women Organized to Resist & Defend aufgerufen haben.
Im Rahmen des "Spring Rising" bauten am 19.März 2015 Friedensaktivisten an den vorderen Toren des U.S.-Luftwaffenstützpunkts Hancock Field Air Force Base in Syracuse im U.S-Bundesstaat New York übermannshohe Nachbildungen von Büchern auf und blockieren mit "Dirty Wars: The World Is a Battlefield" von Jeremy Scahill oder der Charter der Vereinten Nationen die Zufahrt.
Auf dem Stützpunkt, auf dem die 174th Attack Wing of the NY Air National Guard stationiert ist, werden die Drohnenflüge der MQ9 Reaper-Flugzeuge ferngesteuert.
Sieben Personen wurden verhaftet: Danny Burns, Brian Hynes, Ed Kinane, Julienne Oldfield, Fr. Bill Pickard, Bev Rice, und James Ricks.
Die einzige Reaktion ist Gewaltausübung, zu der die Regierung der U.S.A. fähig ist. Die Bewegung der Menschen für ein friedliches Miteinander ist so nie zum Schweigen zu bringen.
Artikel zum Thema
12.02.2015 Obama beantragt neue Kriegsvollmacht ohne A.U.M.F. aus 2001 aufzuheben
01.09.2014 "Executive Order": Geheime Macht einer imperialen Präsidentschaft
09.06.2014 13-jähriger Terrorkrieg: Obama will Ende 2014 über Kriegsvollmacht aus 2001 "reden"
29.08.2014 13-jähriger Terrorkrieg: Die "Authorization For Use of Military Force" vom 14. September 2001 im Wortlaut
07.03.2013 Brian Terrell: Gefangener 06125-026 wartet auf Post
Quellen:
http://space4peace.blogspot.de/2015/03/drone-base-blocked-by-books.html
http://www.answercoalition.org/sf_anti_war_protest_on_12th_anniversary_of_u_s_invasion_of_iraq